MOTOR CONTROL STAR-DELTA PANEL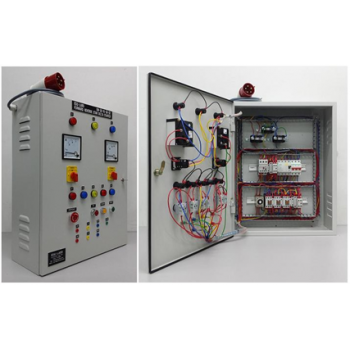 Product Code:
MZM - 4034
Availability:
In Stock
DESCRIPTION
This unit has been designed to provide all fixed and variable AC which are necessary in an electrical machines laboratory to perform the experiment required and work project. The unit is inside a metal housing with clear front panel identification and safe to use.
SPECIFICATION
i. Features:
a. For low- to high-power three-phase motors.
b. Reduced starting current
c. Six connection cables
d. Reduced starting torque
e. Current peak on changeover from star to delta
f. Mechanical load on changeover from star to delta
ii. On panel box must include
a. 30A TPN MCCB 14KA (Metalsol, ABN) : 1 no
b. 40/0.3 4P RCCB (RKN) : 1 no
c. 30/5 Ammeter : 1 no
d. 500V Voltmeter : 1 no
e. 60/5 CL1 15VA CT : 3 nos
iii. Outgoing
a. 10A 3P MCB 6KA (BKN) : 1 no
b. 4.0kW Star Delta Starter : 1 no
c. 240V AC Relay MY4 c/w base : 3 nos
d. Indicator light (green red) : 2 nos
e. Push button (on off button) : 2 nos
f. 6A 1P MCB 6KA (Control fuse, BKN) : 1 no
ACCESSORIES
i. In font of panel board accessories:
a. 30/5 Ammeter
b. b. 500V Voltmeter
ii. On panel box accessories:
a. Tagging/labeling on connected wire
POWER REQUIREMENT
Power supply: AC input 415 Volt +/- 10%, 50Hz, 3-phase
Panel Board
• Panel Mounted type for each starter position to provide real industrial experience.
• Heavy sheet steel console with hinged section front covers, Baked epoxy powder finished.
• All Motor Starter with clear label & symbol.
LITERATURE
· All manuals are written in English
· Model answer
· Teaching manuals
COURSEWARE & ACCESSORIES
· Laboratory Manual
· Instructor's Guide
COUNTRY OF ORIGIN
Made In Malaysia
WARRANTY
2 Years